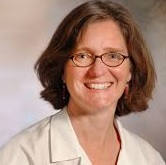 Institution:
University of Chicago Duchossois Center for Advanced Medicine - Hyde Park
Primary Disease Area of Focus:
acute myeloid leukemia (AML)
aplastic anemia
myelodysplastic syndromes (MDS)
myeloproliferative neoplasms (MPN)
paroxysmal nocturnal hemoglobinuria (PNH)
Other Disease Area(s) of Focus:
Inherited predisposition to blood cancers
Lucy A. Godley, MD, PhD, is an expert in the care and treatment of patients with diseases of the bone marrow, including leukemias, lymphomas and multiple myeloma. She also cares for patients undergoing stem cell transplantation and patients with benign hematologic conditions.
Dr. Godley has a special interest in the molecular basis of bone marrow malignancies and is an active researcher in the field. In her laboratory, Dr. Godley studies the basis for cancer cells' abnormal patterns of DNA methylation, as well as inherited forms of bone marrow cancers.
Practice Location:
University of Chicago Duchossois Center for Advanced Medicine - Hyde Park
Chicago
,
IL
60637
US