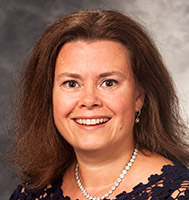 Position / Title:
Assistant Professor of Pediatric Hematology, Oncology and Bone Marrow Transplant
Institution:
American Family Children's Hospital
Primary Disease Area of Focus:
aplastic anemia
myelodysplastic syndromes (MDS)
myeloproliferative neoplasms (MPN)
paroxysmal nocturnal hemoglobinuria (PNH)
pediatric
Other Disease Area(s) of Focus:
Inherited bone marrow failure syndromes
Dr. Hofmann Zhang, a UW Health pediatrician, who specializes in pediatric bone marrow transplant and hematology, first established her research and clinical career in the Northeast.
Following her medical school experience – MD from Albert Ludwigs University of Freiburg, Germany, in 2000 – Hofmann completed her pediatric residency at the University of California in San Francisco.
Upon completion of her residency, Hofmann began a prolific stint in pediatric hematology and oncology at the Dana-Farber/Boston Children's Cancer and Blood Disorder Center at Harvard Medical School, and in hematopathology and pediatric hematopathology at the Brigham and Women's Hospital in Boston and Boston Children's Hospital.
At Boston Children's Hospital, she discovered her passion in cell therapy. She became devoted to the rare childhood bone marrow failure and myelodysplastic syndromes (MDS). Hofmann created a national registry of patients and their blood samples in the hopes of completing research to help develop treatments for these often fatal diseases.
Practice Location:
American Family Children's Hospital
Madison
,
WI
,
US