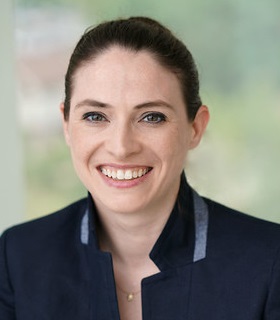 Institution:
Roswell Park Comprehensive Cancer Center
Primary Disease Area of Focus:
acute myeloid leukemia (AML)
aplastic anemia
myelodysplastic syndromes (MDS)
myeloproliferative neoplasms (MPN)
paroxysmal nocturnal hemoglobinuria (PNH)
Dr. Griffiths am board certified in hematology, oncology and internal medicine and hold medical licenses in New York and Maryland. She is a member of multiple professional organizations, including the American Society of Hematology, the American Association for Cancer Research, the Society for Immunotherapy of Cancer and the American Society of Oncology.
Her research is focused on the mechanism of hypomethylating drugs (HMAs) in patients with myeloid cancer, specifically the contribution of the immune system to these responses. They have examined how HMAs can cause re-expression of proteins in cancer cells that can be targeted by the immune system. She has authored/co-authored more than 50 peer-reviewed publications.
Practice Location:
Roswell Park Comprehensive Cancer Center
Buffalo
,
NY
,
US