The 2015 Walk for PNH in NYC was a huge success! 
Notable Numbers
350+ Walkers
18 Walk Teams
over $50,000 raised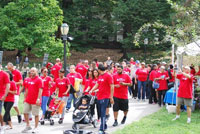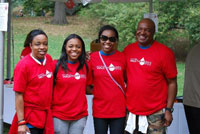 The Walk for PNH in NYC was held on September 20, 2015 in Riverside Park. Over 350 patients, families, and friends registered for the walk, and there were 18 walk teams. Of these registered walkers, 110 of them were off-site walkers in Ohio for the team Mis Movement.  Over $50,000 was raised at the walk for PNH research.

On the day of the walk, after people checked in and received their walk shirts, they had the opportunity to bid on items at the auction. Recognitions were then given to the walk volunteer organizers Marlena Connor, Judy Paulette, Erin Olivier, Bill Halvorsen, Laurie Halvorsen, and Sarah Raboin. After the recognitions, the walk began along the beautiful tree-lined paths of Riverside Park.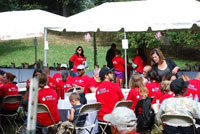 After the walkers completed the walk route, boxed lunches from Cosi were served, and patients, families, and friends socialized and connected with one another. It was a wonderful day for the PNH community across the US to come together to raise awareness for PNH and funds for PNH research.

Before the walk The PNH Breakfast with Experts was held at the Boat Basin Café, located in New York City along the Hudson River, attended by over 30 patients and families. One patient, Sean Sikorski, graciously shared his story with the group along with Dr. Elizabeth Griffiths, a PNH specialist from Roswell Park Cancer Institute. Dr. David Araten, PNH specialist from NYU, was also on hand to help answer patient and families questions.  During the program, patients and families were able to share their experiences and provide each other support. AA&MDSIF would like to thank Alexion Pharmaceuticals for supporting the PNH Breakfast with the Experts.