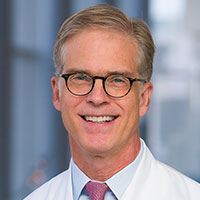 Position / Title:
Director of both the Hematologic Malignancies/Blood and Marrow Transplantation Program and the Combined Adult/Pediatric Stem Cell Transplant Program
Institution:
Harold C. Simmons Comprehensive Cancer Center
Primary Disease Area of Focus:
acute myeloid leukemia (AML)
aplastic anemia
myelodysplastic syndromes (MDS)
myeloproliferative neoplasms (MPN)
paroxysmal nocturnal hemoglobinuria (PNH)
A recognized leader in the field of adoptive immunotherapy, Dr. Collins specializes in blood and marrow transplantation and hematologic malignancies such as leukemia, lymphoma, myeloma, Hodgkin's disease, and myelodysplasia.
Dr. Collins earned his medical degree from the University of Missouri-Kansas City School of Medicine. He completed an internal medicine residency at Baylor University Medical Center in Dallas, as well as a fellowship in hematology and oncology at the University of California at Los Angeles.
Board-certified in internal medicine and medical oncology, Dr. Collins has 25 years of experience in bone marrow transplantation and has participated in some 2,500 autologous and allogeneic transplants.
He is a Fellow of the American College of Physicians and a member of numerous scientific and medical organizations, including the American Association for the Advancement of Science, the American Society of Hematology, the American Society of Clinical Oncology, and the American Society for Blood and Marrow Transplantation.
Dr. Collins has led studies of donor leukocyte infusions through an international network of more than 100 centers. He continues to lead an active program of phase I-III clinical trials investigating novel approaches to hematologic malignancies and blood and marrow transplantation.
Practice Location:
Harold C. Simmons Comprehensive Cancer Center
Dallas
,
TX
75390
US