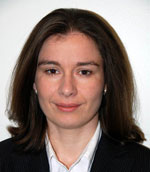 Institution:
Hospital of the University of Pennsylvania
Primary Disease Area of Focus:
aplastic anemia
myeloproliferative neoplasms (MPN)
paroxysmal nocturnal hemoglobinuria (PNH)
Other Disease Area(s) of Focus:
Fanconi Anemia, Dyskeratosis Congenita, Diamond Blankfan Anemia, inherited bone marrow failure, familial AML/MDS predisposition syndromes.
Daria Babushok's research is focused on understanding the genetic changes that can arise in the bone marrow of patients with aplastic anemia, and on how they affect the patients' prognosis and treatment outcomes. Dr. Babushok has completed a clinical hematology-oncology fellowship at the Hospital of the University of Pennsylvania, and is currently a junior physician-scientist investigator at the University of Pennsylvania under the mentorship of Dr. Monica Bessler.
In a study recently published in the journal of Cancer Genetics and conducted with the support of the AA&MDS International Foundation, Dr. Babushok and her colleagues employed sophisticated genetic techniques to study novel genetic changes in the bone marrow of twenty two children and adults with the common form of aplastic anemia. Strikingly, the investigators found that the majority of patients (73%), that included 67% of patients with pediatric aplastic anemia, had gene mutations that emerged in their bone marrow. These mutations were absent in the patients' skin, indicating that these mutations were not inherited, but rather emerged in the bone marrow in the course of the disease. Patients had mutations detected roughly within one year of aplastic anemia diagnosis. The mutations were present in a significant portion of bone marrow cells, indicating that a substantial part of an individual patient's blood production came from the progeny of a single cell that initially acquired a given mutation. This phenomenon, where a large fraction of blood cells originate from the same early cell forming a "clone" is known as "clonal hematopoiesis", and, in aplastic anemia, it is believed to arise due to the strong selective pressure of the immune system on the bone marrow, where "the fittest" bone marrow cells that can evade immune attack and outgrow others take over a patient's blood production.  Among the mutations identified in the study, many were in genes involved in immune response and cell growth. Based on their findings, Dr. Babushok and her colleagues hypothesize that a patient's response to treatment and their overall disease course can be affected by the differences in the acquired genetic make-up of their bone marrow.  
Dr. Babushok's ongoing studies are focused on validating these preliminary results in additional patients and on studying the impact of acquired mutations on blood production. Dr. Babushok's long-term goal is to use the knowledge of the genetic make-up of an individual patient's bone marrow to improve their diagnosis and disease surveillance and to allow for personalized treatment strategies by bringing Precision Medicine to the field of aplastic anemia. Dr. Babushok shared that the support from the AA&MDS International Foundation has been crucial for her and her team's ability to carry out these important studies, which strive to improve the clinical care of aplastic anemia patients.
You can read the abstract for Dr. Babushok's study online at Pub Med.
Practice Location:
Hospital of the University of Pennsylvania
Philadelphia
,
PA
19104
US