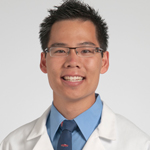 Position / Title:
Assistant Professor, Division of Hematology/Oncology
Institution:
University of Virginia Cancer Center
Primary Disease Area of Focus:
acute myeloid leukemia (AML)
aplastic anemia
myelodysplastic syndromes (MDS)
myeloproliferative neoplasms (MPN)
paroxysmal nocturnal hemoglobinuria (PNH)
Other Disease Area(s) of Focus:
Dr. Michael Keng holds a clinical faculty appointment in Medicine in the Division of Hematology/Oncology at UVA Cancer Center. He practices at the Emily Couric Clinical Cancer Center in Charlottesville and serves as an inpatient hematologist at UVA Hospital. His clinical areas of interest are: myelodysplastic syndromes, myeloproliferative disorders, acute myeloid leukemia, chronic myeloid leukemia, acute lymphoid leukemia, and aplastic anemia. He attended medical school at Michigan State University in East Lansing, Michigan and completed internal medicine residency at University of Southern California in Los Angeles, California. He completed fellowship in Hematology and Medical Oncology at the Cleveland Clinic, Cleveland, Ohio, in 2014, where he served as chief fellow from 2013-2014. Dr. Keng joined the University of Virginia in 2014. He lives with his wife and daughter and enjoys cooking, hiking, and travelling.
Practice Location:
University of Virginia Cancer Center
Charlottesville
,
VA
US