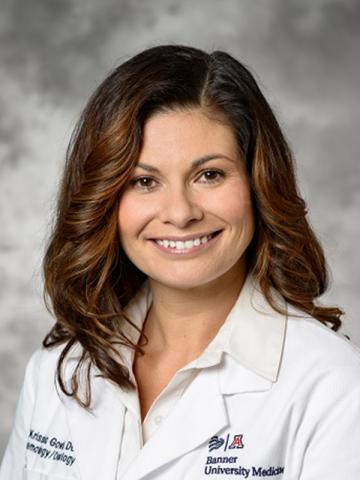 Position / Title:
Assistant Professor of Medicine
Primary Disease Area of Focus:
acute myeloid leukemia (AML)
aplastic anemia
myelodysplastic syndromes (MDS)
myeloproliferative neoplasms (MPN)
paroxysmal nocturnal hemoglobinuria (PNH)
pure red cell aplasia (PRCA)
Krisstina Gowin, DO is an Assistant Professor of Medicine at the University of Arizona. Dr. Gowin graduated from Chicago College of Osteopathic Medicine in 2009, where she received a merit scholarship and recognition from the American Women's Medical Association for outstanding academic achievement. She completed internal medicine residency at University of Southern California, hematology and medical oncology training at Mayo Clinic in Arizona, fellowship training in integrative medicine at the University of Arizona. She is board certified in medical oncology, internal medicine and hematology.  
Dr. Krisstina Gowin's clinical interests focus on myeloproliferative neoplasms, plasma cell dyscrasias, multiple myeloma and integrative oncology. She is also a member of the hematopoietic cellular therapy and transplant team. Dr. Gowin is passionate about integrative medicine and is committed to supporting patients through their journey.
Practice Location:
University of Arizona Cancer Center
Tucson
,
AZ
85704
,
US