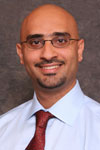 Institution:
Froedtert Hospital and the Medical College of Wisconsin
Primary Disease Area of Focus:
acute myeloid leukemia (AML)
aplastic anemia
myelodysplastic syndromes (MDS)
myeloproliferative neoplasms (MPN)
Ehab Atallah, MD, is a Professor of Medicine and Section Head of hematological malignancies in the Medical College of Wisconsin Division of Hematology and Oncology, specializing in leukemia and myelodysplastic syndromes at Froedtert Hospital. He graduated from Cairo University School of Medicine in 1994, then completed an internal medicine residency in the Cleveland Clinic Health System and a fellowship in hematology/oncology at the Karmanos Cancer Center in Detroit, Michigan, where he also served as Chief Fellow. He then went on to complete a leukemia fellowship at M.D. Anderson Cancer Center in Houston, Texas. Dr. Atallah is board certified in Internal Medicine, Medical Oncology, and Hematology. He has authored numerous publications, including journal articles, meeting abstracts, and a book chapter. In 2007, he received the American Society of Clinical Oncology Foundation Merit Award. His current research interests are treatment of patients with chronic myelogenous leukemia, chronic lymphocytic leukemia, acute lymphocytic leukemia, acute myelogenous leukemia, myeloproliferative neoplasms and myelodysplastic syndromes.
Practice Location:
Cancer Center - Froedtert Hospital
Milwaukee
,
WI
53226
US