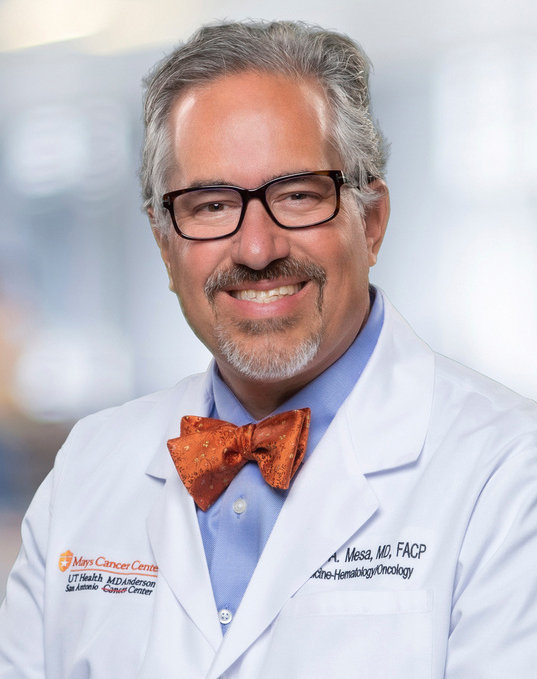 Position / Title:
Director of UT Health San Antonio MD Anderson Cancer Center
Institution:
Mays Cancer Center at UT Health San Antonio MD Anderson
Primary Disease Area of Focus:
acute myeloid leukemia (AML)
myelodysplastic syndromes (MDS)
myeloproliferative neoplasms (MPN)
Dr. Ruben Mesa is the director of UT Health San Antonio MD Anderson Cancer Center, one of only four National Cancer Institute-designated cancer centers in Texas. For almost 30 years the cancer center has had a deep focus on providing world-class cancer care, advancing cancer research and educating the next generation of cancer care scientists and care providers.
After earning degrees in nuclear engineering and physiology, with minors in radiation biophysics and bioengineering, from the University of Illinois at Urbana-Champaign, Dr. Mesa received his medical degree from the Mayo Graduate School at the Mayo Clinic College of Medicine in Rochester, Minnesota. He completed his residency in internal medicine and his fellowship in hematology/medical oncology at Mayo. He is a fellow of the American College of Physicians and is certified by the American Board of Internal Medicine in hematology and medical oncology.
Practice Location:
Mays Cancer Center at UT Health San Antonio MD Anderson
San Antonio
,
TX
US