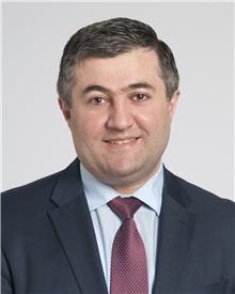 Position / Title:
Director of the Pediatric Bone Marrow Transplantation
Institution:
The Cleveland Clinic Taussig Cancer Institute
Primary Disease Area of Focus:
acute myeloid leukemia (AML)
aplastic anemia
myelodysplastic syndromes (MDS)
pediatric
Other Disease Area(s) of Focus:
Schwachman diamond syndrome, dyskeratosis congenita (DKC) \ RASopathies, Blood and Marrow Transplant
Dr. Hanna is board certified in pediatrics and pediatric hematology-Oncology. He earned his medical degree from Aleppo University Faculty of Medicine in Aleppo, Syria. His post-graduate training in USA includes a pediatric residency at Duke University Medical Center in Durham, North Carolina, and a pediatric hematology-oncology fellowship at the Fred Hutchinson Cancer Research Center and Seattle Children's Hospital in Seattle, Washington.
Dr. Hanna is a member of several professional organizations, including the American Society of Pediatric Hematology Oncology, American Society of Hematology, and the American Society of Bone Marrow Transplant.
Dr. Hanna has published several research articles in peer-reviewed journals, and has presented at professional association meetings.
His specialty interests include treatment of children with leukemia / Lymphoma and solid tumors that require Hematopoietic Stem Cell Transplantation to consolidate the treatment for their malignant disease, and he also very interested in treatment of inherited non-malignant disorders like primary immunodeficiency like SCID or other inherited metabolic diseases which Hematopoietic Stem Cell Transplantation could offer the potential to restore normal hematological and immunologic function.
Practice Location:
The Cleveland Clinic Taussig Cancer Institute
Cleveland
,
OH
44195
,
US