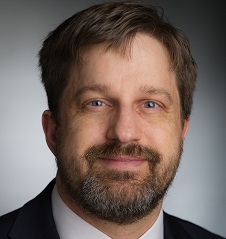 Position / Title:
Associate Professor of Medicine
Institution:
Dana-Farber Cancer Institute
Primary Disease Area of Focus:
myelodysplastic syndromes (MDS)
myeloproliferative neoplasms (MPN)
Other Disease Area(s) of Focus:
Adults with Inherited Marrow Failure Syndromes
David Steensma, MD, FACP is an associate professor at Harvard Medical School and faculty member in the leukemia program at Dana-Farber Cancer Institute and Brigham and Women's Hospital in Boston, Massachusetts. He treats patients with myelodysplastic syndromes (MDS), leukemia, and other bone marrow failure diseases. His research focuses on clinical trials and new drug development and collaborative efforts related to MDS molecular genetics.
Practice Location:
Dana-Farber Cancer Institute
Boston
,
MA
02215
US