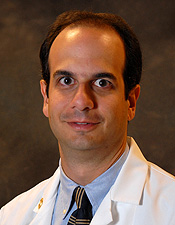 Institution:
Dana-Farber Cancer Institute
Primary Disease Area of Focus:
acute myeloid leukemia (AML)
myelodysplastic syndromes (MDS)
myeloproliferative neoplasms (MPN)
Dr. Cutler received his MD from McGill University, Montreal, Canada. He subsequently received his MPH from the Harvard school of Public Health. He completed postgraduate training in Internal Medicine at Royal Victoria Hospital, Montreal, followed by a fellowship in Hematology/Oncology at DFCI. In 2002, he joined DFCI, where he currently is a member of the Hematologic Malignancies staff.
Practice Location:
Dana-Farber Cancer Institute
Boston
,
MA
02215
US