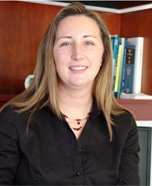 Institution:
National Cancer Institute – Shady Grove
Primary Disease Area of Focus:
aplastic anemia
pediatric
Other Disease Area(s) of Focus:
Genetics, Genetics of inherited bone marrow failure syndromes, Dyskeratosis Congenita, Telomere Biology Disorders, Fanconi anemia, Diamond Blackfan anemia
Dr. Savage joined the Clinical Genetics Branch, DCEG, NCI in 2006 as a tenure-track investigator. She was awarded scientific tenure by the NIH and appointed senior investigator in 2012. In 2013, she was promoted to Branch Chief, and in 2018, she became the Clinical Director for DCEG. Dr. Savage received her M.D. from the University of Vermont College of Medicine, completed residency training in Pediatrics at Children's National Medical Center, in Washington DC, and a fellowship in Pediatric Hematology/Oncology at the NCI Pediatric Oncology Branch and Johns Hopkins University. She is board-certified in both Pediatrics and Pediatric Hematology-Oncology. 
Dr. Savage is an elected member of the American Society for Clinical Investigation. Her current research is focused on the genetic and molecular epidemiology of telomere biology, pediatric cancer etiology, and inherited cancer predisposition syndromes.
Practice Location:
National Cancer Institute – Shady Grove
Rockville
,
MD
,
US