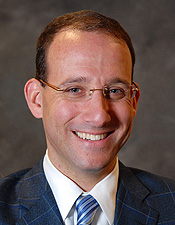 Developing a Disease-Specific Measure for Quality of Life in Patients with Myelodysplastic Syndrome
Original Research Center:
Dana-Farber Cancer Institute
Current Position/Title:
Assistant Professor in Medicine, Harvard Medical School
Final Report:
Dr. Abel and his colleagues developed a disease-specific measure of quality of life for patients with myelodysplastic syndromes. The most significant part of this effort was to host several focus groups for MDS patients, caregivers and healthcare providers at the Dana-Farber Cancer Institute and then piloting the resulting measure—the QUAlity of Life in Mylodysplasia Scale or Q.U.A.L.M.S. — individually with a new group of Dana-Farber patients. The purpose of the focus groups was to hear directly from MDS patients and their health-care providers (inpatient and outpatient nurses, physician assistants, social workers, and physicians) regarding the factors that are most important to the quality of life of MDS patients and how we could best capture those factors in a questionnaire. Dr. Abel's group then created a 38-item questionnaire using data from the focus groups, and have piloted and revised the questionnaire with the input of 20 new patients with MDS. Moving forward, they plan to validate the measure for use in clinical trials by administering it to a much larger group of patients from additional institutions, specifically measuring how responses on the QUALMS-1 change with changes in therapy and disease status.
Current Institution:
Dana-Farber Cancer Institute
Dr. Abel received his MD and MPH from Columbia University in 2000. He completed his postgraduate training in internal medicine at Massachusetts General Hospital and his hematology/oncology fellowship at Dana-Farber Cancer Institute. In 2007, he joined Dana-Farber and is a member of the Hematologic Malignancies staff, as well as the Center for Outcomes and Policy Research.