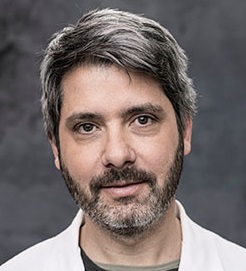 Institution:
Ohio State University Wexner Medical Center
Primary Disease Area of Focus:
acute myeloid leukemia (AML)
Dr. Garzon is an oncologist treating patients with leukemia and other blood cancers. His specific areas of focus include adult T cell leukemia-lymphoma, bone marrow transplantation and chronic b-cell lymphocytic leukemia. He serves as Professor of Internal Medicine and Member of Molecular Biology/Cancer Genetics Program at the OSUCCC – James.
Research is an important part of Dr. Garzon's career. He is a lead researcher in an OSUCCC – James program that examines the role of RNA molecules in the development of leukemia, and he's participated in numerous clinical trials in an effort to discover more effective leukemia therapies. Dr. Garzon grateful for the opportunity to collaborate with world-class colleagues in the search for a cure.
Practice Location:
Ohio State University Wexner Medical Center
Columbus
,
OH
43210
US