Hope Matters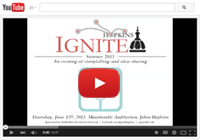 Watch this video to learn more about Project Hope
For better or worse, oncology seems to lend itself to military metaphors.  We speak of cancer as an enemy, patients as warriors, chemotherapy as the 'big guns', t-cells as generals, and on and on and on.  In keeping with that metaphor, discussing hope with our patients is the Red Cross, the humanitarian aid.  Not offering hope or giving hope, but rather discussing it.  Our patients taught us this.
In the fall of 2012, we hosted Hope Grand Rounds, where 3 patients with advanced stage cancer came to talk about hope: what it means to them, what they hope for, how hope helps them manage their illness, and more importantly, how it helps them manage their life. They taught us how we, as providers, can positively influence their experience with hope.  We were all moved and inspired that day. To keep that fire kindled and the conversation alive, we started The Hope Project.
Here's what the patients told us:
"Ask.  Ask me what I'm hoping for.  And if you haven't asked me, please don't assume you know.  What I'm hoping for may surprise you."
 "I'm only human – of course I want to be cured.  But the hope for a cure isn't what drives me every day. It's not what gets me out of bed in the morning.  It's not what lights my fire.  It's different, smaller hopes that keep me going every day.  The hope of having enough energy to cook a meal for my family, hoping to make it to my daughter's soccer game, hoping to avoid transfusions for a week so I  can go visit my sister.  These are the things I hope for day to day and that make the quality of my life better.  These are the things I need my treatment team to know – to see if they can help me make them happen.
"Talk with me about hope.  It's on my mind every day, driving every decision I make. It's important to me that you recognize and honor that".
Strong words from young women all fighting relentless cancers.  As part of our Hope Project, we've committed to learning more about hope.
So far, we've learned that hope is a portal to the person behind the patient.  Asking someone what they hope for (today, this week, six months from now, from this cycle of therapy, from this new treatment) – this is where we get to understand someone.  We come to understand their treatment expectations and if they're medically realistic.  We understand what motivates them in their life, what brings them joy, what worries them most. We understand what's keeping them going, what's driving their decisions. Think of a conversation of hope as you might a  pain assessment.  We would never talk with a patient about their pain without first asking them to describe it.  So, too, with hope, asking the patient to describe what hope means to them, what brings them hope, what they're hoping for – This is how hope becomes a meeting place for the patient and medical team.  This is how we help maintain the human, compassionate relationship we know patients crave.
Hope, we've also learned, is not an end-of-life discussion, nor is it a one-time discussion.  Hope is a living-well discussion.  It's a thread that can be woven through a relationship with a patient, whether they're under our care for 6 days or 6 years.  It's a thread that can be returned to over and over again, at the all of the highs and lows on the complicated tapestry of a patient's journey with cancer.  Because cancers change, prognoses change, so too hopes will change.  And they should.  Having hope as part of ongoing conversations is an investment in the difficult conversations ahead.  It helps us, as providers, guide the conversations.  It helps patients and families to know that when hope is about living well, hope is never lost.
Our patients describe hope as 'a peace-giver', 'a comfort', 'a guide', 'a reservoir of strength'.  A 'life-line'. 
A life-line. 
If it is indeed a lifeline, where is it in our clinical care?  How and when are we addressing it?  
Ask your patient what she's hoping for.  Ask yourself, while you're at it.
As our patient said, the answers may surprise you.
Anna Ferguson RN, BSN
Research Nurse, Department of Hematologic Malignancies
Founder and Director, Hope Project
Sidney Kimmel Comprehensive Cancer Center at Johns Hopkins
410-614-4838
Afergus1@jhmi.edu