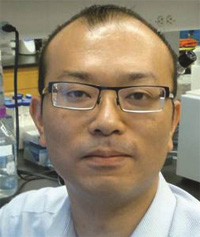 Molecular basis for disordered myeloid growth in Monosomy 7
Original Research Center:
Northwestern University Feinberg School of Medicine and University of Tokyo
Current Position/Title:
Adjunct Assistant Professor in Pediatrics
Final Report:
Loss of chromosome 7 ("Monosomy 7") occurs very frequently among adult and pediatric patients with myelodysplastic syndromes (MDS) or bone marrow failure syndromes that progress to myelodysplasia. Monosomy 7 carries with it a poor prognosis, even following a bone marrow transplant. Better understanding why monosomy 7 results in MDS would give rise to newer therapies, more effective and less toxic than bone marrow transplant. One important lead is that monosomy 7 cells express a defective receptor for the blood growth hormone G-CSF. G-CSF stimulates the production of normal whole blood cells. Even though monosomy 7 is common, it is difficult to culture monosomy 7 cells in order to study them. Dr. Futami developed two special cell lines that express the defective receptor. These cells display abnormal proliferation and defective maturation that characterizes MDS cells. He used these two cell lines to identify the biochemical changes that make the monosomy MDS cells different from normal blood cells, and found that defective receptor leads to unusual phosphorylation of Jak2. Dr. Futami and his colleagues expected that this abnormal Jak2 phosphorylation would be treated with novel agents. As expected, a Jak2 inhibitor BSK805 clearly inhibited abnormal growth of cells with defective receptor. He also found that defective receptor leads to abnormal gene expression of transcription factors which cause ineffective maturation of blood cells. These results will provide a clue to develop new types of therapies to correct this disease.
Current Institution:
Northwestern University Feinberg School of Medicine