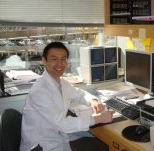 Clonal Architecture in PNH: Somatic genetic defects facilitating clonal expansion
Original Research Center:
Cleveland Clinic Foundation
Current Position/Title:
Project Staff, Department of Translational Hematology and Oncology Research
PNH is a disease in which a mutation in the gene called PIG-A is acquired in the stem cells (mother cells of all blood cells) in the bone marrow of patients.  As a result the blood cells produced by this stem cell are defective.  While previous discover of the PIG-A gene mutation has helped to explain the symptoms in the disease, it remains unclear how PIG-A mutation makes the PNH stem cells outcompete healthy stem cells.  In this project we propose to apply a very efficient sequencing technology to examine all genes in PNH stem cells to see whether additional mutations will explain how PNH develops.  In the initial experiments we have identified such additional mutations.  They may help to devise treatments to eradicate PNH stem cells from the patient's bone marrow. 
First Year Report:
Paroxysmal nocturnal hemoglobinuria (PNH) is a blood disease with chronic clinical course. PNH has been considered a genetically simple disease caused by PIG-A gene mutations.  However, according to our next generation search of whole human gene (in comparison between PNH cells and normal blood cells), various kinds of other genetic abnormalities were clearly found in addition to the acquisition of PIG-A mutation. Moreover, we discovered multiple (2 to 3) PIG-A mutations in the different PNH cells from the same PNH patients. Based on such novel results we are first to elucidate the variations of causes and explain the differences in symptoms of PNH for individual patients. For example, newly identified some genetic abnormalities in this project had been already commonly reported also in myelodysplastic syndromes, which is more aggressive blood disease. It makes sense since a part of PNH cases show more aggressive clinical conditions than the other PNH patients. In this first-year progress report, we mention novel findings of new genetic abnormality in addition to PIG-A mutations in PNH. Deeper research for discovered genes in more PNH cases will confirm these conclusions for the feedback to better patients' care in the clinic. More details of this project were presented in 55th American Society of Hematology Annual Meeting @New Orleans, LA.
Current Institution:
Cleveland Clinic Taussig Cancer Institute