AAMDSIF sponsors live education events throughout the year. This includes satellite symposia at annual medical association meetings, as well as smaller live regional events where community-based health professionals can hear from leading experts. The International Bone Marrow Failure Disease Scientific Symposium is our biennial professional meeting held near Washington, DC.
2019
Bone Marrow Failure Disease Symposium: An Update in the Latest Advances in Diagnosis and Treatment
Register Now!
Saturday, March 30, 2018, 8:00am – 3:00pm
Sheraton Albuquerque Uptown, Albuquerque, NM
2019 Bone Marrow Failure and Myeloid Neoplasms Symposium: Advances in Diagnosis and Treatment
This symposium cosponsored by the University of New Mexico Comprehensive Cancer Center and the Aplastic Anemia and MDS International Foundation will provide updates on the most recent research related to the biology, diagnosis and clinical management of bone marrow failure diseases, including myelodysplastic syndromes (MDS), aplastic anemia (AA), paroxysmal nocturnal hemoglobinuria (PNH), acute myeloid leukemia (AML) and myeloproliferative neoplasms (MPN).
Registration now open (livestream option also available). 
Great Debates & Updates in Hematologic Malignancies
March 22-23, 2019 | Los Angeles, CA
Marina Del Rey
April 5-6, 2019 | New York, NY
Sheraton New York Times Square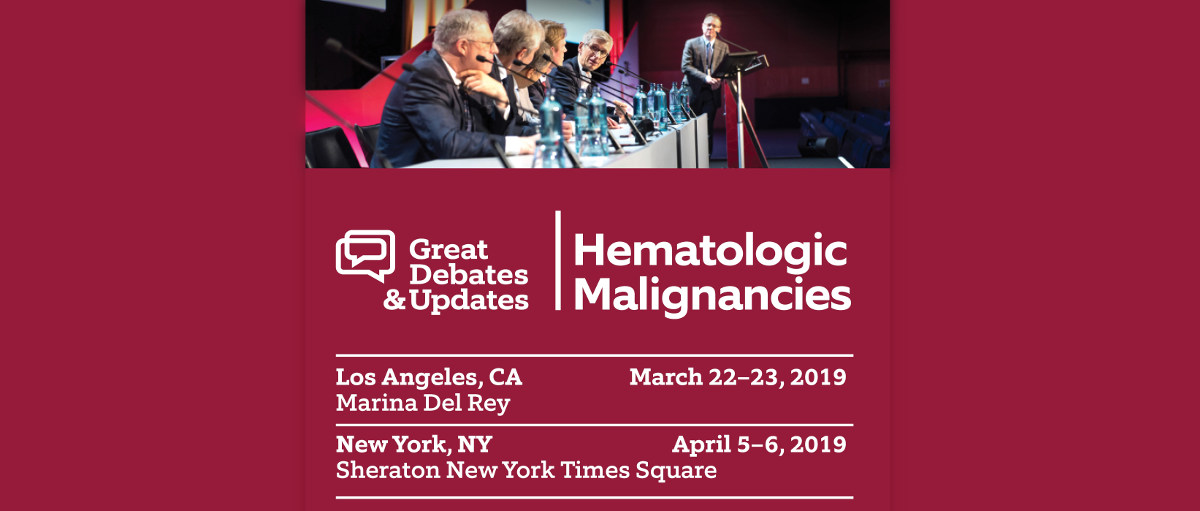 Great Debates & Updates in Hematologic Malignancies, a debate-style meeting originally held exclusively in New York City, will be expanding its presence in 2019 to the Los Angeles area. This 2-day CME conference is meant for all healthcare professionals involved with or interested in the treatment of hematologic malignancies.
The agenda features a mix of clinical updates and lively debates on provocative scientific topics impacting the field, such as multiple myeloma, acute and chronic lymphocytic and myeloid leukemia, "not-so-benign" hematology, and so much more. For more information, visit greatdebatesinhema.com and use code "ENDORSER" for $50 off registration.