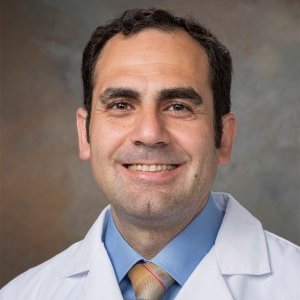 Position / Title:
Assistant Professor Of Medicine (hematology)
Institution:
Yale University and Yale Cancer Center
Primary Disease Area of Focus:
acute myeloid leukemia (AML)
aplastic anemia
myelodysplastic syndromes (MDS)
myeloproliferative neoplasms (MPN)
paroxysmal nocturnal hemoglobinuria (PNH)
Amer Zeidan's primary research interest is in myelodysplastic syndromes (MDS) and was mentored in this research area by Dr. Steven Gore and Dr. B Douglas Smith at Johns Hopkins University where he has completed a clinical hematology/oncology fellowship and a clinical research fellowship in myelodysplastic syndromes. He also earned a Master of Health Science (MHS) degree in Clinical Investigation at Johns Hopkins before recently moving to Yale University as an Assistant Professor of Medicine to reunite with Dr. Steven Gore and continue his MDS research.

Dr. Zeidan has two major areas of research interest.  The first area is the development of novel therapies for MDS and refractory myeloid malignancies with a focus on immune therapy including approaches that harness the patient's own immune system to attack the cancer cells. Dr. Zeidan and his colleagues designed and initiated an ongoing trial that uses an antibody to stimulate the immune system in patients with MDS who did not respond to the existing drugs (such as azacitidine and decitabine) and are not candidates for stem cell transplantation. Studies have found that cancer cells can block the effects of effective cancer-fighting immune cells known as the T-cells. One way the cancer cells evade the immune system is by activating a protein called the Cytotoxic T-Cell Lymphocyte Antigen-4 (CTLA-4) which is present on the surface of T-cells and its activation inhibits them therefore allowing cancer cells to escape killing by T-cells. Antibodies against CTLA-4 can block its function therefore activating these T-cells to fight cancer cells. One anti-CTLA-4 antibody, ipilimumab (YERVOY®), has been shown to do so and was the first drug to prolong survival of patients with metastatic melanoma and as such has been approved for treatment of this disease. Dr. Zeidan and colleagues are evaluating the safety and applicability of using an ipilimumab-based strategy in patients with MDS. A vital component of this study will be laboratory studies to evaluate effects of Ipilimumab on the immune system cells to understand how the antibody works and to possibly allow prediction of which patients respond, if any, and which ones develop toxic effects. This clinical trial may lead to further exploration of Ipilimumab in combination with other therapies to help improve outcomes. The study is currently open at Johns Hopkins and there are ongoing efforts to open it at other centers including Yale University.

The second area of research interest for Dr. Zeidan is effectiveness and outcomes research in hematologic malignancies especially MDS; a type of research that evaluates how much benefit do patients achieve from existing MDS treatments at the community level and how well do these therapies work in the real world outside of the controlled clinical trials setting. Using the a large Medicare claims-based database with upwards of 23,000 records, Dr. Zeidan and his colleagues confirmed the clinical benefits of lenalidomide and iron chelation therapy in patients with MDS at the population level. Dr. Zeidan will continue to work on conducting this type of research in an MDS-focused research group within the Yale School of Public Health Cancer Outcomes, Public Policy, and Effectiveness Research (COPPER) Center at Yale University. In addition, Dr. Zeidan used clinical databases to compare the utility of different prognostic models to predict how patients with MDS fare with existing treatments.
As with other Evans Fellows, Dr. Zeidan shared that his receipt of the fellowship allowed him to advance his career. Along with an American Society of Clinical Oncology Young Investigator Award, the Evans fellowship allowed him to extend his work into a fourth year and expand recruitment of patients into his clinical trial and conduct database research. The funds provided through the Evans Fellowship in association with the MDS Clinical Research Consortium allowed enough 'protected' research and academic time for Dr. Zeidan to pursue additional training in biostatistics through the Bloomberg School of Public Health at Johns Hopkins.  This type of research-based training is invaluable in creating exceptional clinical researchers with the ability to advance research findings into clinical practice.
Practice Location:
Yale University and Yale Cancer Center
New Haven
,
CT
06510
US