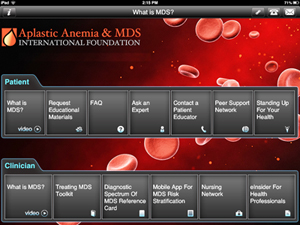 The Aplastic Anemia & MDS International Foundation developed this FREE iPad app, available from the iTunes store as an educational resource for clinicians and patients.
Clinicians can use the What is MDS? video (below or on our Youtube channel) as a resource when teaching patients about myelodysplastic syndromes (MDS). Other resources include:
Patients and their families can use the iPad app to learn about MDS in several ways:
Watch the What is MDS? video above or on our Youtube channel
Read, listen, or view the FAQ section
Request educational materials and/or reading the materials included within the app.These materials provide information about why MDS results in low blood counts, such as anemia (low red blood cell count), neutropenia (low white blood cell count) and thrombocytopenia (low platelet counts) and the associated symptoms. Information about risk levels, treatments, managing side effects, staying on treatment and preparing for office visits is also provided.
Through our one-to-one Support Connection, AA&MDSIF can help patients get in touch with other patients and families also battling MDS. Our Standing Up For Your Health program helps patients with bone marrow failure diseases and their families develop the skills necessary to ensure they receive high quality care. Our patient educators are available to answer questions about the diagnosis of MDS, to talk about treatment options, to help find an expert, and to locate resources that can help ease the burden of treatment.