The American Society of Hematology (ASH) Annual Meeting was held December 5-8 in Orlando, Florida. This meeting was attended by more than 20,000 hematologists, oncologists, and allied health professionals, who gathered to report and learn about significant new research findings from around the world.
Symposium: No Bone Unturned: Unraveling the Biology and Treatment for Myelodysplastic Syndromes, Myeloproliferative Neoplasms, Acute Myeloid Leukemia and Treatment-Related Myeloid Neoplasms
The symposium, cosponsored by AAMDSIF and Cleveland Clinic, focused on myelodysplastic syndromes, myeloproliferative neoplasms, and acute myeloid leukemia. The goal of the symposium will be to bring together leaders in disease research and clinical practice to review the contributions of cytogenetics and molecular genetics to the biology of these disorders, and to describe the role of novel pharmacologic therapies and innovations with transplantation to improve the care of these patient populations.

The recorded version of this symposium for health professionals will be available in March 2016.
Poster Session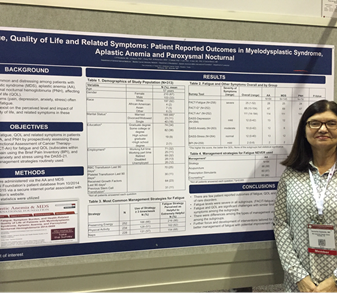 Again this year at ASH, joint research between AAMDSIF and our affiliated researchers was presented as a poster. Dr. Carmen Escalante, MD. and her team at the MD Anderson Cancer Center joined us for a project exploring how fatigue affects patients with bone marrow failure. While fatigue in solid tumor cancer is well documented, the same is not true for hematological disorders. We used standard measures of fatigue, distributed in a survey to patients last year. The findings indicate that successful strategies for managing fatigue include preserving energy, physical activity to counter fatigue, and naps.
All three approaches were reported as commonly used, and quite helpful in patients with aplastic anemia, MDS and PNH who experience fatigue. Read the abstract.
Video Interviews with Experts
AAMDSIF recorded interviews with our experts attending the ASH Annual Meeting to explain the most important new research on aplastic anemia, MDS, and PNH. These physicians are AAMDSIF Medical Advisory Board members or AAMDSIF research grant recipients who shared their time and expertise to discuss the latest advances in bone marrow failure disease research.

These interviews will be available on our YouTube channel by late December.