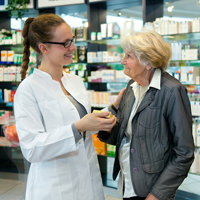 Available in many community drug stores, grocery stores, and even hospitals and long term care facilities, the pharmacist is an essential member of the health care team. The pharmacist is among the most accessible of health care professionals. In general, a pharmacist dispenses prescription medications to patients and offers expertise in the safe use of prescriptions. They may also may provide advice on how to lead a healthy lifestyle, conduct health and wellness screenings, provide immunizations, and oversee the medications given to patients. Your pharmacist is the medication expert, but he/she works closely with your doctor. For each prescription dispensed (whether it is a pill, liquid or even intravenous infusion), your pharmacist must check to see that the information provided by the prescriber (your doctor) is complete. They check to be sure a new medication will not interact with other medications you are taking, that the medication and dosage are appropriate for your health condition. They are available to ensure you understand the proper way to store and take your medication.

Ultimately, you have the responsibility for managing your health care, but, according to the American Pharmacist Association, "your pharmacist can help if you keep him or her up-to-date about your health and the medications you are taking. You should also check with your pharmacist before taking any nonprescription medication. Even though they do not require a physician's prescription, nonprescription medicines are powerful and can, if taken improperly, adversely interact with your prescription medications or badly affect another health condition."

Pharmacists who know you medical history can make you aware of possible harmful drug interactions or allergies to certain drugs. Your pharmacist also will be able to discuss possible side effects; what foods, drinks, or activities that should be avoided while on a medication. They can advise you on what to do if you miss a dose; and a wide range of other helpful information. When you have questions about your medications, your pharmacist is a valuable resource!