For Your Patients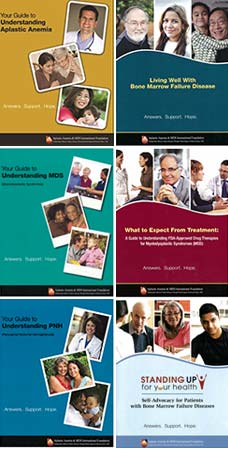 Written in plain language style, these basic informational guides can help patients understand aplastic anemia, paroxysmal nocturnal hemoglobinuria and myelodysplastic syndromes.  A complete packet of materials includes:
Your Guide to Understanding Aplastic Anemia
Your Guide to Understanding Myelodysplastic Syndromes
Your Guide to Understanding Paroxysmal Nocturnal Hemoglobinura
Your Guide to Living Well With Bone Marrow Failure Disease
Your Guide to Understanding MDS Drug Therapies
Understanding Clinical Trials Fact Sheet
Iron Overload Fact Sheet

Bone Marrow

and Stem Cell Transplantation
AA&MDSIF Informational Brochure
Financial Resources
How to Evaluate Health Information on the Internet
Online Learning Center Introduction
Marrowforums: Hosted Online Discussions
Supporting Students with Bone Marrow Failure Disease: A Guide for Parents and School Personnel.
Some of our Patient Guides are also available in Spanish, French, German, Italian, and Portuguese. If you'd like to place a bulk order for any of our materials, download this pdf form or call (301) 279-7202 x116.