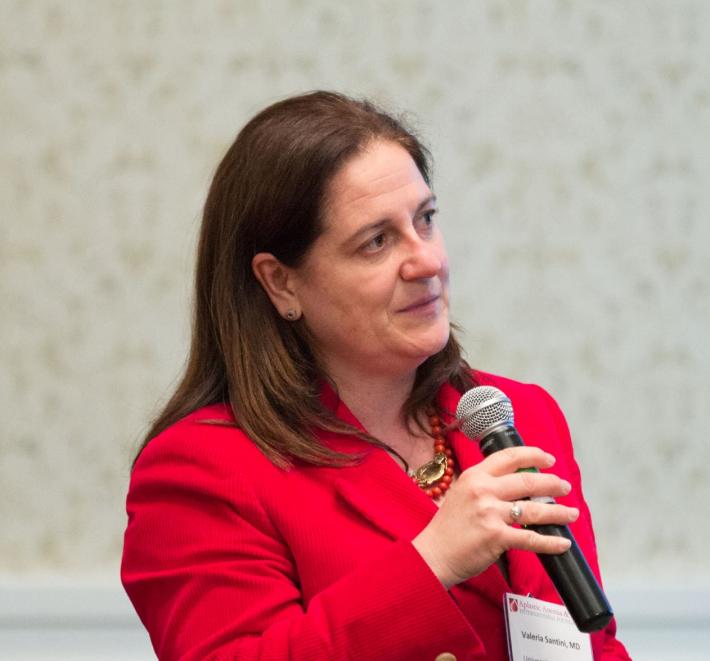 Primary Disease Area of Focus:
acute myeloid leukemia (AML)
myelodysplastic syndromes (MDS)
paroxysmal nocturnal hemoglobinuria (PNH)
Valeria Santini is an Associate Professor of Hematology at the University of Florence Medical School in Florence Italy, where she received her degree in Medicine and Postgraduate diploma in hematology (cum laude). She worked as an EORTC fellow in experimental hematology from 1988 to 1991 at the Dr. den Hoed Kliniek, Erasmus University, Rotterdam. In 1999 she worked in the Department of Leukemia at MD Anderson Cancer Center, University of Texas, Houston. Her scientific interests and publications are focused on maturation induction and therapeutic targeting of epigenetics modifications, myeloid leukemias and myelodysplastic syndromes (MDS).  At present Dr. Santini is responsible for the MDS and chronic myeloid leukemia (CML) program of the Hematology Unit at the University of Florence. She is a member of European Hematology Association (EHA), MDS Foundation, Italian Society of Experimental Hematology.  Dr. Santini is a member of the Executive Board of the Italian Society of Hematology and the Medical Advisory Board of the Aplastic Anemia & MDS International Foundation.
Practice Location:
University of Florence School of Medicine
Florence
50121
,
IT