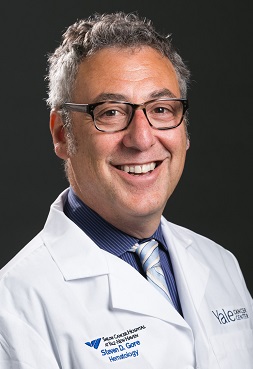 Position / Title:
Director of Hematologic Malignancies
Primary Disease Area of Focus:
myelodysplastic syndromes (MDS)
Steven Gore, MD, is an internationally recognized hematologist specializing in the treatment of leukemia and myelodysplastic syndrome. When treating patients with these complicated conditions, he believes in providing as much information as possible so they can make their own decisions about treatment. Because he believes this is so important, Dr. Gore will often ask patients to explain what they know back to him. "I'm the advice-giver, but the patient is always in the driver's seat in terms of choosing strategies for their care," he says. 
In addition, Dr. Gore discusses expectations and treatment options with patients' families as much as possible. "Cancer is often a full-family event, "he says. "The more a patient can enlist family for support, the easier it's going to be to help coordinate care."
Dr. Gore is also passionate about conducting research on new treatments for blood cancers. He has launched trials for transfusion-dependent patients with low-grade myelodysplastic syndrome and helps other physicians organize high-impact clinical trials for blood cancers of all stages. He has authored more than 200 peer-reviewed articles and book chapters on hematologic malignancies and myelodysplastic syndromes, and is a member of the American Society of Hematology, the American Society of Clinical Oncology, and the American Association for Cancer Research.
A lover of musical theater, Dr. Gore has been known to break out into song when things are going well.
Practice Location:
Yale New Haven Hospital
New Haven
,
CT
06510
,
US