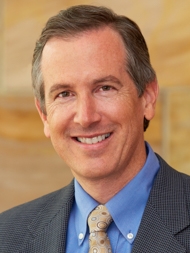 Position / Title:
Professor, Department of Internal Medicine
Institution:
University of New Mexico Comprehensive Cancer Center
Primary Disease Area of Focus:
acute myeloid leukemia (AML)
aplastic anemia
myelodysplastic syndromes (MDS)
My research interest is focused on the development of novel therapeutic agents for the treatment of hematological malignancies. Towards this aim, I am serving in three different leadership positions: 1) I am the director of the UNM Bone Marrow Transplant and Cell Therapy Program, which has brought autologous hematopoietic stem cell transplant technology to New Mexico, with the intent of introducing allogeneic stem cell transplant and both CAR-T therapy in the near future. Our program is currently undergoing FACT accreditation to further this aim. 2) I am the leader of the Hematology Clinical Working Group, a committee which reviews and prioritizes all clinical trials for hematological malignancies at UNM and affiliate NCORP community sites. 3) My laboratory uses preclinical models to identify novel therapeutic targets for hematological malignancies, and to test the therapeutic efficacy of novel agents. We have expertise both the development of novel targeted and transgenic mice, as well as human tumor xenograft models to elucidate the oncogenic interactions of genes and carcinogenic compounds, in order to understand their potential risks and pathogenic mechanisms. In addition to this basic science work, my laboratory is interested in the fundamental processes of hematopoiesis and the development of novel cell therapeutic agents. We assist the Cancer Center in validating autologous stem cell products that have been transported from our processing facility prior to stem cell transplantation, and we are interested in contributing to the creation of a Cell Therapy Developmental laboratory which would advance the therapeutic transplational capabilities of the UNM BMT program.
Practice Location:
University of New Mexico Comprehensive Cancer Center
Albuquerque
,
NM
US