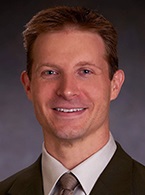 Position / Title:
Director, UCLA CAR T-Cell Program Clinical Instructor
Institution:
Ronald Reagan UCLA Medical Center
Primary Disease Area of Focus:
acute myeloid leukemia (AML)
aplastic anemia
myelodysplastic syndromes (MDS)
myeloproliferative neoplasms (MPN)
paroxysmal nocturnal hemoglobinuria (PNH)
Dr. Josh Sasine is a hematologist and oncologist at UCLA specializing in the treatment of hematologic malignancies, including hematopoietic stem cell transplantation (bone marrow transplantation), cellular therapy, and clinical trials of novel therapeutics. He is the Director of the Chimeric Antigen Receptor T-Cell (CAR T) Program. He treats patients with blood and bone marrow disorders such as leukemia, myelodysplastic syndrome, lymphoma, multiple myeloma, amyloidosis, aplastic anemia, Waldenstrom Macroglobulinemia, polycythemia vera, primary myelofibrosis, paroxysmal nocturnal hemoglobinuria (PNH), and others. Dr. Sasine is a physician-scientist and has an active scientific research program studying how cancer cells in the bone marrow get by supported by their non-cancerous neighboring cells; the goal of the work is to discover new medicines by inhibiting these interactions.
Practice Location:
Cancer Care - Westwood
Los Angeles
,
CA
90095
US