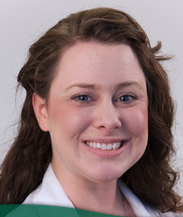 Institution:
MD Anderson Cancer Center
Joanna Myers Casale is a registered dietitian at the MD Anderson Cancer Center at Cooper in Camden, NJ. She earned a Bachelor of Science degree in Clinical Dietetics & Nutrition from the University of Pittsburgh where she graduated magna cum laude.
Joanna is a board certified specialist in oncology nutrition by the Commission on Dietetic Registration.
At the MD Anderson Cancer Center at Cooper, Joanna works with hematology and oncology patients to support them during their treatment and reduce side-effects. She also educates her patients on foods to support their immune system and recovery.
In addition to hematology and oncology, other areas of interest include integrative nutrition and gastrointestinal nutrition.
She is a member of the American Society for Parenteral and Enteral Nutrition and the Academy of Nutrition and Dietetics, including the Oncology Nutrition Dietetic Practice Group.