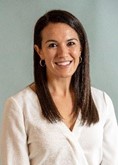 Position / Title:
Oncology Nurse Practitioner
Institution:
Massachusetts General Hospital Cancer Center
Primary Disease Area of Focus:
acute myeloid leukemia (AML)
myelodysplastic syndromes (MDS)
Jenna Moran, MSN, FNP-BC, is an oncology nurse practitioner with the Leukemia department at the Massachusetts General Hospital Cancer Center in Boston, MA. She has experience in both the ambulatory and inpatient care settings. Her current areas of clinical focus include acute myeloid leukemia, acute lymphocytic leukemia, chronic myeloid leukemia and myelodysplastic syndrome. She has worked as clinical faculty at Simmons College as an instructor for medical surgical nursing. Additionally, she has worked as a global health nurse educator providing bone marrow transplant education and training to nurses at Dhaka Medical Center in Bangladesh. 
Practice Location:
Massachusetts General Hospital Cancer Center
Boston
,
MA
02114
US
Physician Status:
available for consultation