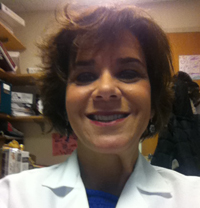 Position / Title:
Senior Program Research Nurse Practitioner
Institution:
Dana Farber Cancer Institute
As the Senior Program Research Nurse Practitioner for the Leukemia Program at Dana Farber Cancer Institute, Ilene Galinsky practices autonomously and in collaboration with physicians and other members of the multidisciplinary team in the diagnosis, treatment, and management of patients with acute and chronic myelogenous leukemia (CML), myelodysplastic syndrome (MDS), myelofibrosis, and other bone marrow failure diseases. Ms. Galinsky serves as a resource, educator, mentor, administrator, and researcher to physicians, nurses, physician assistants, and nurse practitioners as well as clinical coordinators. In addition, she assists in protocol development and execution. She has experience as a lecturer for MDS, CMS, and acute leukemia and has contributed to more than 40 abstracts and publications in the medical literature. Ms. Galinsky earned her MSN and BSN from Northeastern University in Boston, MA.