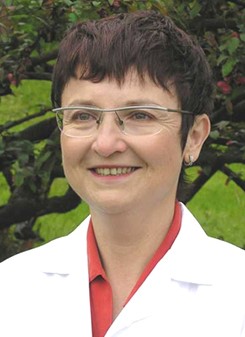 Institution:
Medical University of Vienna
Professor Hildegard Greinix received one of the first AA&MDSIF "New Researcher" research grant awards in 1989 while she was a research fellow in experimental and clinical marrow transplantation at the Fred Hutchinson Cancer Research Center in Seattle, Washington. She explained that her grant research "enabled me to work on a large animal model exploring the role of certain HLA antigens in development of bone marrow failure.  The results were published in the well-known peer-reviewed journal Blood and led to further research to explore ways of therapeutic intervention."

The AA&MDSIF support of Professor Greinix' research was a major factor in her career development. "The grant's exciting research results were the basis for a faculty position at the Medical University of Vienna, Austria, where I have been able to continue my research activities and where I am now the Head of the Bone Marrow Transplant Program," she said. Professor Greinix leads the BMT Group research programs on transplant immunology that are funded by national and international grants. 

Professor Greinix has had more than 200 publications in well-known peer-reviewed scientific journals over the past 25 years since receiving her AA&MDSIF grant.  Her particular research interests include chronic graft-versus-host-disease (GVHD), its diagnosis, predictive biomarkers and treatment strategies. She has extensive experience in performing retrospective and prospective clinical studies in patients with GVHD and is a member of several international research advisory boards.

Professor Greinix is an assigned expert for the Austrian Government to the European Commission's directives on stem cells and tissues and she has been an active participant of the NIH Consensus Development Project on Chronic GvHD and a leading expert on diagnosis and staging of chronic GvHD according to the new NIH-defined criteria.
We recently spoke with Professor Greinix and she shared more insight about the impact of AA&MDSIF's grant on her career and the current state of her research.
1) You were among the first researchers to receive a New Investigator grant from AA&MDSIF in 1990. 
Why do you think it is important to award research grants to investigators early in their careers?
These sort of research grants allow young researchers to get excellent experience in performing  high quality research. In my case it was an excellent and large research center where I was able to continue my research project, learned more innovative techniques and was able to build up a career in research.
 
2) As you progressed in your career you've likely mentored many other young investigators – how have you encouraged them to pursue research in hematology, and specifically bone marrow failure disease?
I discussed with my mentees the severity and life-threatening complications of certain hematologic diseases including bone marrow failure diseases and the severe consequences for patients afflicted. This way my mentees saw the urgent need to make progress in these areas and to start or continue their research to improve patients' outcome.
 
3) As the Head of the Bone Marrow Transplant Program at the Medical University of Vienna, have you seen the application of research to clinical practice accelerated in recent years?
During the intense international cooperations, meetings with international colleagues at research meetings and electronic access to all scientific journals, the stem cell transplant community has become an international network allowing rapid translation of research findings into the clinic during the last years.
 
4) What do you think are the most promising areas of research in bone marrow failure disease today?
Still, a lot of patients with this severe disease do not have access to curative treatments such as hematopoietic stem cell transplanation where a lot of progress has been achieved during the last years by using dose-reduced conditioning protocols, improved donor selection and supportive care. Especially the use of haplo-identical donors will allow administration of stem cell grafts to patients in developing countries where bone marrow failure syndromes are quite prominent. International cooperations within the WBMT (Worldwide Network for Blood and Marrow Transplantation) have started with the aim to assist and support these developing countries.