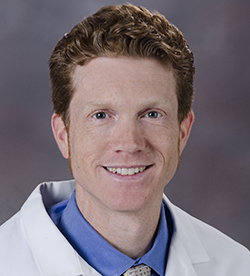 Position / Title:
Assistant Professor of Medicine
Institution:
OHSU Knight Cancer Institute
Primary Disease Area of Focus:
acute myeloid leukemia (AML)
myelodysplastic syndromes (MDS)
myeloproliferative neoplasms (MPN)
Other Disease Area(s) of Focus:
Acute Promyelocytic Leukemia
Dr. Traer completed a fellowship in hematology/oncology from Oregon Health & Science University. He received his M.D./Ph.D. from the University of Texas Southwestern Medical School and completed a residency in internal medicine at Oregon Health & Science University.
In addition to practicing general hematology at OHSU Knight Cancer Institute, Dr. Traer is involved in clinical trials evaluating targeted therapy with kinase inhibitors in leukemia patients. He is performing research with Brian Druker, M.D. to investigate how the bone marrow microenvironment provides sanctuary to leukemia cells by providing critical survival signals, which eventually leads to disease resistance and relapse. He is working to develop new therapies that more effectively target cancer cells within the microenvironment and improve upon existing therapy.
Practice Location:
OHSU Knight Cancer Institute
Beaverton
,
OR
97006
US