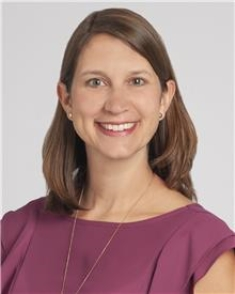 Institution:
Cleveland Clinic Center for Pediatric Behavioral Health
Primary Disease Area of Focus:
Other Disease Area(s) of Focus:
Kate E. Eshleman, Psy.D., completed her graduate training at Xavier University in Cincinnati, OH focusing on clinical psychology. After completing an internship in pediatric behavioral medicine at University of Miami, Jackson Memorial Hospital in Miami, FL, she completed a fellowship in pediatric psychology at Cleveland Clinic before joining the staff in 2009.
Dr. Eshleman's primary specialty is working with children, adolescents, and families coping with significant physical disease (i.e., diabetes, cancer, organ failure/ transplant). Treatment focuses on working with children and families to address and manage the emotional, physical, and cognitive aspects of chronic illness. Along with her outpatient practice, Dr. Eshleman provides inpatient consultation-liaison services to the Children's Hospital. Dr. Eshleman is actively involved in training the medical residents through her role as coordinator of the behavioral health module of the pediatric residency training program.