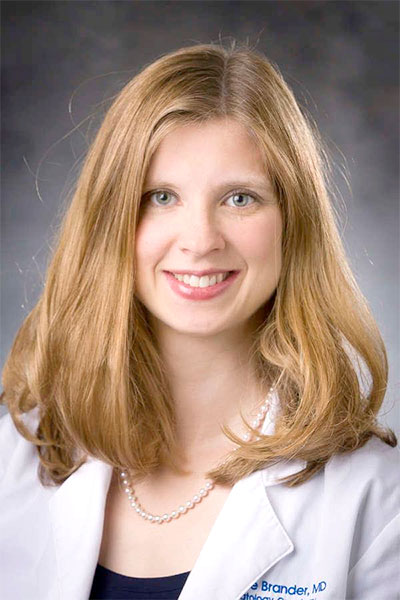 Position / Title:
Cell Therapy and Hematologic Malignancies Specialist
Primary Disease Area of Focus:
chronic lymphocytic leukemia (CLL)
Dr. Brander focus on treating chronic lymphocytic leukemia (CLL). The way the CLL affects patients differs because leukemia can be different in different patients, and how it makes them feel can be very different. And, importantly, their goals of treatment are going to be very different. Dr. Brander would like patients to know that she understands that this is a new and different situation for them, and that this is as a partnership for the long haul. She also want them to know that she has compassion for what they are going through. Even though Dr. Brander sees a lot of CLL patients, she is not in the patient's shoes, hearing the diagnosis for the first time. She's passionate about her work, both helping patients and being continually able to learn. A physician has to be passionate about learning because the field is changing and you have to take that information, assimilate it, and be able to relay it to patients.
Practice Location:
Duke Cancer Center
Durham
,
NC
27710
US