2016 Recipients
Sydney Clanton
At the age of 16, Sydney was devastated when she was diagnosed with severe aplastic anemia. She was forced to immediately withdraw from school and quit dancing. However, after receiving two successful blood transfusions, Sydney is on the road to recovery. She re-enrolled in school and began dancing again. Sydney is now majoring in psychology at Georgia State University and plans to get a Master's Degree in Social Work so that she can pursue a career as a medical social worker in a children's hospital.
Robert Delfeld
Three weeks before Robert Delfeld's high school graduation, he was diagnosed with aplastic anemia. He is thankful for his sister's bone marrow transplant, which had a lot to do with his speedy recovery. Even so, he needed to prolong attending college for a year. But he forged ahead, interning at an art museum and performing arts center during this interim period. Robert plans to major in economics and also study liberal arts because he believes that a well-rounded education is the best preparation for solving society's problems.
Mariah McHenry
Between the ages of 10 and 17, Mariah McHenry suffered from aplastic anemia. This forced her to miss the second half of her senior year and she could no longer live on campus. Even worse, she had to give up her beloved competitive running. But Mariah never let her disease prevent her from completing her academic goals. She's already received her nursing assistant certification and plans to pursue a career in nursing.
Mikaela Sterenberg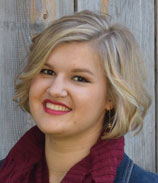 Despite being diagnosed with paroxysmal nocturnal hemoglobinuria (PNH) at 15, Mikaela Sterenberg is highly optimistic about her future. Her experience as a PNH patient inspired her to volunteer for the Make-A-Wish Foundation and at the Helen DeVos Children's Hospital. She also hasn't let PNH interfere with her professional goals. As a student at the Kendall College of Art and Design, Mikaela is now one step closer to becoming an illustrator.