AAMDSIF sponsors live education events throughout the year. This includes satellite symposia at annual medical association meetings, as well as smaller live regional events where community-based health professionals can hear from leading experts. The International Bone Marrow Failure Disease Scientific Symposium is our biennial professional meeting held near Washington, DC.
Lymphoma & Myeloma Congress
October 23-26, 2019
Sheraton New York Times Square Hotel
New York, NY
The Lymphoma & Myeloma Congress, an international conference on hematologic malignancies, will be taking place October 23-26 in New York City. This 1,000+ person meeting is meant for all healthcare professionals interested in the treatment of different blood cancers. Now in its 19th year, the Lymphoma & Myeloma Congress is recognized around the world as the most respected forum for industry-leading hematologic research.
New for this year, the meeting has added a fellows workshop, designed with the educational needs of physicians-in-training in mind. Concurrent Nurse Practitioner and Physician Assistant sessions (in addition to all other regularly scheduled courses) will take place October 24-26. For more information, visit www.lymphomaandmyeloma.com. Use code "LM75" at checkout for a $75 registration discount.
The purpose of the symposium is to bring together and inform the academic and community hospital clinicians about the latest clinical and translational research in myelodysplastic syndromes and secondary AML currently taking place at the NCI CCR and the NIH intramural research programs. 

Registration and Agenda

The agenda will cover the following objectives:
Understanding the biology of MDS and update on the currently emerging therapies for this disease
Update the attendees with the preclinical and translational research currently ongoing at the NIH intramural programs 
Familiarize attendees with clinical trials available or being planned at the NCI CCR and the NIH Clinical Center for refractory or relapsed MDS or AML  
The symposium will include speakers from the NIH intramural research programs and keynote speaker Alan List, M.D., President and Chief Executive Officer of Moffitt Cancer Center in Tampa, FL. Dr. List is internationally recognized for his many contributions in the development of novel, more effective treatment strategies for myelodysplastic syndrome (MDS) and acute myeloid leukemia (AML).

Organizing Committee
Steven Pavletic, M.D., Head, Graft-versus-Host and Late Effects Section, Immune Deficiency and Cell Therapy Program, CCR, NCI
Naoko Takebe, M.D., Ph.D., Associate Chief Developmental Therapeutics Clinic, Early Clinical Trials Development Program, DCTD, NCI
Sabrina Khan, M.D., M.Ph., Clinical Fellow, Developmental Therapeutics Clinic, DCTD, NCI

BMT and Immunotherapies for Pediatric Leukemia
Current and novel treatments and financial implications
Jointly planned by the National Marrow Donor Program®/Be The Match® and the Aplastic Anemia and MDS International Foundation.

Bone marrow transplant (BMT) and immunotherapies continue to quickly evolve for pediatric leukemia, varying in the pathophysiology and management. For health professionals, knowledge of these treatment options and potential toxicities is necessary to manage and provide patients with safe and effective evidence-based care. When choosing these treatment options, families can face additional financial decisions and need assistance to manage the financial implications.
View program slides here!

ONS 2019 Satellite Symposium Enduring Program
Description:
This program was recorded at the ONS 44th Annual Congress in Anaheim, California on April 10, 2019. Topics include the latest developments in diagnosing and treating myeloid malignancies; emerging treatment options for low-risk MDS, high-risk MDS, AML, and MDS/MPN overlap; disease management for chronic anemia, side effects and treatment adherence; psychosocial considerations and palliative care to improve the quality of life for this patient population. Case studies are used to illustrate treatment decision-making and therapeutic challenges.

Learning Outcomes
Explain the role of genetic testing in diagnosing, stratifying and treating myeloid malignancies;
Identify emerging treatment options for patients with low-risk MDS, high-risk MDS, secondary AML, and MDS/MPN overlap;
Analyze the nurse's role in managing treatment for myeloid malignancies based on clinical presentations, diagnostic workups, transfusion dependence, and  comorbidities;
Discuss the nurse's role in collaboration with other disciplines in addressing treatment goals and providing patient education to improve outcomes.
Moderator:
Nancy Corbitt, BSN, RN, OCN, CRNI, University of Maryland Greenebaum Cancer Center, Baltimore, MD

Presenters:
Tiffany Tanaka, MD, Division of Regenerative Medicine, UC San Diego Moores Cancer Center, San Diego, CA
Costandina Herbert, BSN, RN, Seattle Cancer Care Alliance, Seattle, WA
Chris Onderdonk, LCSW, Doris A. Howell Palliative Care Service, UC San Diego Hillcrest Hospital, San Diego, CA
Providers
This activity is jointly provided by Medical Learning Institute, Inc. and the Aplastic Anemia and MDS International Foundation

Commercial Support Acknowledgement 
This activity is supported by an educational grant from Celgene Corporation

Target Audience 
This activity was developed for nurses and nurse practitioners who are involved in the treatment or management of patients with bone marrow failure disease

Nursing Education Purpose Statement
The purpose of this activity is to improve the knowledge and competence of nurses concerning the treatment or management of patients with bone marrow failure disease



Registered Nurse Designation 
Medical Learning Institute, Inc.
Provider approved by California Board of Registered Nursing, Provider Number 15106, for 1.5 contact hours.



Nurse Practitioner Credit Designation
This activity is approved for 1.5 contact hour(s) of continuing education (which includes 0.33 hours of pharmacology) by the American Association of Nurse Practitioners. Activity ID 19063760. This activity was planned in accordance with AANP Accreditation Standards and Policies.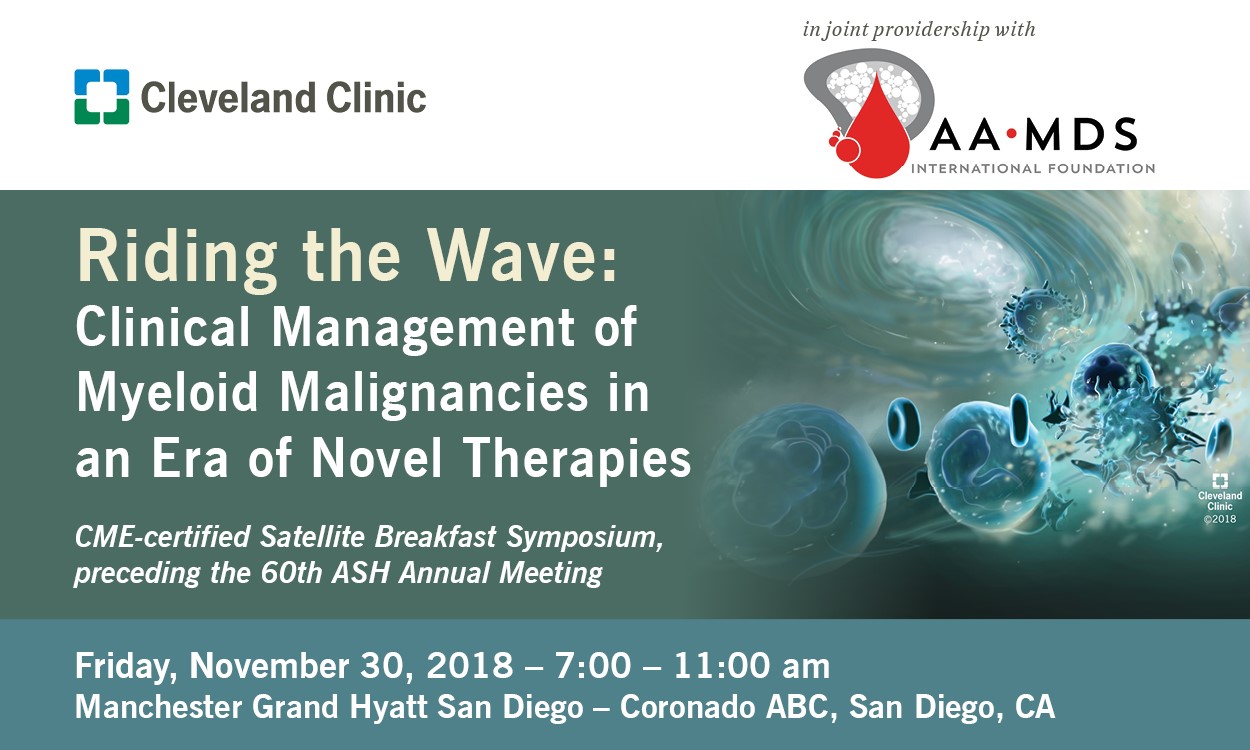 ASH 2018 Satellite Symposium
Riding the Wave: Clinical Management of Myeloid Malignancies In an Era of Novel Therapies
Satellite Symposium organized by the Cleveland Clinic Taussig Cancer Institute Leukemia Program and the Aplastic Anemia and MDS International Foundation, preceding the 60th ASH Annual Meeting.
 This CME certified activity provides an in-depth and up-to-date review of research related to the biology, prognosis, natural history, and therapeutic management of patients with MDS, PHN, AML and myeloid malignancies. This program brings together leaders in disease research and clinical practice to explore solutions to improving the care of these patient populations.