The 5th Annual Hope, Steps & A Cure 5K Run/Walk was a huge success! 
Notable Numbers
280+ Walkers
21 Walk Teams
over $42,000 raised
Congratulations to volunteer organizers Chair Stephanie Hamm, Bill Hamm, Laurie Beverage, Ruth Cuadra, Susan Kass, Shahana Larson, Lisa Massacani, Maggie O'Neil, Gus Quinonez, Tom Reep, Candy Stoutenborough, Kelley Tremelling, Mary Elaine Valenzuela, and Nina Van Nostrand. Again this year, the event included a 5K run and more than 80 runners ran along the beautiful Long Beach Shoreline Marina. Top finishers in each age group received customized Hope, Steps & A Cure medals.
The 5th Annual Hope, Steps & A Cure Walk started at 10:00 am covering 1-mile or 2-mile stretches of the scenic Shoreline Marina with the Queen Mary in the background. Highlights included:
California patients and families connected with each other
20+ year aplastic anemia survivor Lisa Massacani gave inspirational remarks as our 5K celebrity starter
The Moment of Remembrance included music and a rose petal toss into the water
Our silent auction offered incredible items for bid
Art of Elysium entertained the children with craft projects
Be the Match enrolled 12 potential marrow donors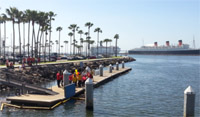 After patients and families shared a Moment of Remembrance with a beautiful musical performance and a rose petal toss along the dock and we squeezed ourselves into our group photo, the walk officially began.  The sea of red and yellow t-shirts flowed along the beautiful Long Beach Shoreline Marina, attracting the attention of the Sunday morning marina crowd.  Many walk teams stopped to take pictures with the Queen Mary in the background.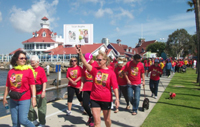 We finished back at Shoreline Village where every walker received a Bravery bracelet and a light lunch.  The silent auction offered items ranging from autographed memorabilia to gift baskets and a hot air balloon ride!
The finish line festivities focused on celebrating the top fundraisers, sharing moments with our friends and families, and making new friends with the promise of meeting again next year to walk and run – for a cure!
Thank you to our 2014 5K Run/Walk sponsors: