Can you explain what is meant by higher-risk MDS?
We categorize MDS based on the International Prognostic Scoring System, which is generally referred to as IPSS, and the World Health Organization (WHO) Prognostic Scoring System, which is known as WPSS. IPSS takes into account blast percentage in the bone marrow, any chromosomal abnormalities seen in the MDS cells, and the degree of low blood counts, indicating if the red blood cells, white cells, or platelets are low. We consider people who get a score of INT-2 (intermediate-2) or high-risk, which is the category above INT-2 as higher-risk MDS. These are the two classifi cations within IPSS that defi ne higher-risk MDS, and these patients typically have a higher blast percentage and higher-risk cytogenetic (chromosomal) abnormalities.
The newer WPSS classification system takes into account chromosomal abnormalities like IPSS, but includes two more factors—the WHO's own classification of MDS subtypes and whether the patient is dependent on red cell transfusions. In the WPSS, a score of three or above is considered higher-risk. For example, the two categories of Refractory Anemia with Excess Blasts (RAEB-1 and RAEB-2) have a point score of three, which puts you in the higher-risk category.
What are the main treatment strategies for higher-risk MDS? Are there advantages and drawbacks to each?
The treatment strategies depend on the goal of the treatment – whether it is cure (a potential cure) or disease control. If the goal is cure, then the eventual goal or desired treatment is an allogeneic stem cell transplant. Depending on patient's age and the stage or status of the MDS, they may or may not need therapy before they qualify for a stem cell transplant.
Options for therapy, if needed prior to allogeneic stem cell transplant, may be hypomethylating agents like azacitidine (Vidaza®) or decitabine (Dacogen®). If patients have very high-risk MDS, bordering on acute leukemia, then we will sometimes use induction chemotherapy. Typically, we like to achieve a goal of getting the blast percentage under 5% prior to transplant to maximize the chances of having a good outcome from a stem cell transplant.
If the goal of therapy is disease control for highrisk MDS patients, the standard therapy would be the hypomethlating agents mentioned earlier. Clinical trials are also an important component to patient care if there is evidence that the MDS is progressing on standard therapy.
What is the difference between active care and supportive care and the therapies used for each approach?
Supportive care is always going to be a component of care for MDS patients whether low or highrisk. In my view, supportive care is frequent blood count monitoring, preventive antibiotics if patients are neutropenic (low white blood cell count) and at risk for infection, and transfusional support. So this is a component of care patients will receive regardless of whether we are doing chemotherapy or monitoring the patient.
Active treatment is comprised of chemotherapy in the form of hypomethylating agents or induction chemotherapy or allogeneic stem cell transplant.
The hypomethylating agents are potentially disease-modifying therapies for MDS, and while they are not a cure, they can be quite successful at controlling the MDS and improving quality of life in those patients who are responding. It is a type of therapy that is ongoing, and it be continued as long as patients are having a response and not experiencing undue toxicity. Some patients can be on these drugs for years and have good control over their MDS, keeping it in check for a long time.
Is the outlook for type of treatment any different for longer term patients than it is for those newly diagnosed?
The outlook is different. For longer-term patients, we have had the chance to see how their MDS is going to progress, so we know their natural history and can better predict long term outcomes. For newly diagnosed patients, it is different because you don't have that history. That is why the IPSS or WPSS risk scores are so important. Those scores are a surrogate prediction of prognosis and natural history for that newly diagnosed patient. Then, as time goes by, we get a better sense of how their MDS is behaving and thus a better idea of what their overall survival chances and quality of life will be.
If stem cell transplantation is the only potential cure for MDS, why aren't they done for all patients? Does degree of risk play a part in this decision?
Risk certainly plays a role in this. There has long been the debate of who to transplant with MDS and then when to transplant. There have been treatment decision analyses published that examined balancing the risk benefi t ratio of transplant along with the risk benefi t ratio of the MDS itself. Given that transplantation has a high potential mortality associated with it, we only want to recommend it for those who will benefi t from it.
In the decision analysis published by Corey Cutler, it was shown that if people who were lower-risk IPSS (low or INT-1 categories) had bone marrow transplants soon after diagnosis, they lost years of life. However, patients who were INT-2 or high-risk in IPSS who underwent transplants right after diagnosis, gained years of life.
So based on that, the recommendation is to consider bone marrow transplant for INT-2 or high-risk category patients of all ages. For those in low or INT-1 categories, the recommendation is to monitor the disease or treat with chemotherapy as needed and only consider transplant if the disease begins to progress out of the low-risk category,
The main reason for this is that the lower-risk patients could potentially die of a transplant complication when otherwise their MDS would not have been at a life-threatening stage.
Are any new treatments taking the place of existing treatments or adding to the 'therapeutic arsenal' of resources now available to physicians and high-risk MDS patients?
The current standard of care treatments for MDS includes azacitidine, decitabine, or lenalidomide (Revlimid®). Clinical research with new chemotherapy combinations are the key to improving therapy options for MDS patients and numerous studies are underway around the world. There are a number of early phase studies that show promising response rates and additional study will be important to determine the best dosing schedules and to identify which patients are going to respond the best to each individual therapy.
Interviewee: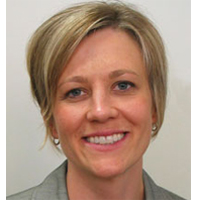 Position / Title:
Assistant Professor of Medicine
Dr. Warlick is an Assistant Professor of Medicine in the Division of Hematology, Oncology, and Transplantation at the University of Minnesota. Her clinical and research efforts focus on the treatment of hematologic malignancies. She has particular interest in myeloid malignancies and the development of new strategies utilizing hematopoietic stem cell transplantation, traditional chemotherapeutics, as well as novel biologic modifiers to treat this diverse group of diseases.