What is it about the original concept (or design) and ongoing function of the CRC that makes it a unique addition or enhancement to traditional MDS research?
This is the first endeavor of its kind in the United States – it's a wonderful, collaborative effort between six large MDS programs to run trials together in a more efficient way and hopefully bringer new drugs to patients sooner.
Are there any CRC studies (completed or underway) that would not have been possible without the scope that CRC participation allows?
There are two good examples of this. One is a research study on CMML, a more rare MDS/MPD overlap. Because it's an unusual patient population, having the consortium to more quickly accrue enough patients for this study was very helpful. A second example is of a randomized trial, headed by MD Anderson of the two approved MDS drugs, azacitidine (Vidaza®) and decitabine (Dacogen®). Outside the consortium environment this study might not have been approved. It's going well and with good accrual and I think we'll have some great results for the field.
One thing to keep in mind is clinical trials have a lot of regulatory aspects –they are paperwork intensive, and not an altogether efficient process, besides all the aspects of patient care.  So, having several centers working in coordination can be helpful.
Are there any CRC studies you have a particular interest in?
One that I'm interested in is a on a high-risk type of MDS that comes with the tp-53 mutation, which carries a very poor prognosis – it's really one of the worst actors in in MDS. There's a trial run out of Moffit Cancer Center that some of us are participating in that is accruing well. It's an exciting time in MDS right now and we hope to make progress in developing a drug for this high-risk MDS subtype.
Do the participating centers have different roles in the CRC or are they all the same kind or level of participation? Does data sharing play a role?
It's generally the same although the number of patients vary some by region – but the experience of planning and running the trials is pretty much the same. Data sharing has been useful to have a larger aggregate group to examine results and statistics from. There have been some successful abstracts that benefitted from having this larger pool of rare disease data.
This is an example of a creative partnership that combines resources to increase the pace and scope of research? Is it working out has you had hoped and is there any 'next step' in a partnership arrangement like this?
Overall it is working very well, and we have been very productive as group since the inception of the MDS-CRC. We are currently exploring all ways possible to maintain the funding to continue this endeavor for years to come.
Interviewee: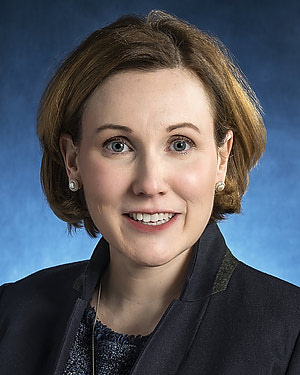 Position / Title:
Assistant Professor of Oncology and Medicine
Institution:
Sidney Kimmel Comprehensive Cancer Center at Johns Hopkins
Primary Disease Area of Focus:
acute myeloid leukemia (AML)
aplastic anemia
myelodysplastic syndromes (MDS)
myeloproliferative neoplasms (MPN)
paroxysmal nocturnal hemoglobinuria (PNH)
Dr. Amy DeZern is a hematologist and medical oncologist at the Sidney Kimmel Comprehensive Cancer Center and is an Assistant Professor of Oncology and Medicine at the Johns Hopkins University School of Medicine. She received her medical degree in 2005 from the Johns Hopkins University School of Medicine and her Master in Clinical Investigation (M.H.S.) from the Johns Hopkins Bloomberg School of Public Health. She completed residency training in internal medicine as well as fellowships in medical oncology and hematology at Johns Hopkins.  Dr. DeZern sees patients at the Sidney Kimmel Comprehensive Cancer Center.
Dr. DeZern's primary clinical and research interests are focused on bone marrow failure disorders.  She has expertise in the diagnosis and treatment of myelodysplastic syndromes (MDS), aplastic anemia - both inherited and acquired, paroxysmal nocturnal hemoglobinuria (PNH), and acute leukemias.  She sees clinic patients weekly with these diagnoses as well as patients in need of bone marrow transplants.  Dr. DeZern greatly enjoys taking care of patients with bone marrow failure and hematologic malignancies and is dedicated to improving the care and outcomes of patients with these conditions.  To that end, she is an active clinical researcher who specializes in clinical studies of diagnostics and maintains a database of samples and clinical information for outcomes research in marrow failure and leukemia. She is the principal investigator of a number of clinical protocols for patients with MDS as well as a unique clinical trial treating patients with severe aplastic anemia using a specialized bone marrow transplant regimen at Johns Hopkins.  Her work has resulted in multiple publications in the scientific literature and presentations at national meetings.  She is also involved with the Aplastic Anemia & MDS International Foundation and serves as one of the six principal investigators for the Edward P. Evans MDS Clinical Research Consortium.
Practice Location:
Johns Hopkins Sidney Kimmel Comprehensive Cancer Center
Baltimore
,
MD
21231
US