How common is one of these diseases coexisting with the other?
Are there overlapping symptoms of these two disease that would initially be cause for confusion or misdiagnosis?
Despite the difference I mentioned, the symptoms of both are very similar. Patients with either disease often have low red cells, low white cells, and low platelets. Thus, the confusion could lie in the similar blood counts, but the reason for these low blood counts is different. In aplastic anemiam there are no cells to make new blood, but in MDS,  there are too many bad cells that are not effective in making blood,crowding out the good ones. 
Are cases as a dual diagnosis such as these counted along with the individually diagnosed cases or are they regarded as a separate category?
Is treatment each disease any different than when they appear separately?
Should patients who have been diagnosed for one of these diseases be tested for the other?
Interviewee: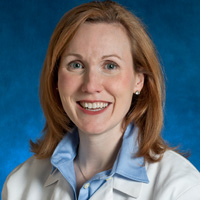 Position / Title:
Assistant Professor of Oncology and Medicine
Institution:
Sidney Kimmel Comprehensive Cancer Center at Johns Hopkins

Dr. Amy DeZern is a hematologist and medical oncologist at the Sidney Kimmel Comprehensive Cancer Center and is an Assistant Professor of Oncology and Medicine at the Johns Hopkins University School of Medicine. She received her medical degree in 2005 from the Johns Hopkins University School of Medicine and her Master in Clinical Investigation (M.H.S.) from the Johns Hopkins Bloomberg School of Public Health. She completed residency training in internal medicine as well as fellowships in medical oncology and hematology at Johns Hopkins.  Dr. DeZern sees patients at the Sidney Kimmel Comprehensive Cancer Center.
 
Dr. DeZern's primary clinical and research interests are focused on bone marrow failure disorders.  She has expertise in the diagnosis and treatment of myelodysplastic syndromes (MDS), aplastic anemia - both inherited and acquired, paroxysmal nocturnal hemoglobinuria (PNH), and acute leukemias.  She sees clinic patients weekly with these diagnoses as well as patients in need of bone marrow transplants.  Dr. DeZern greatly enjoys taking care of patients with bone marrow failure and hematologic malignancies and is dedicated to improving the care and outcomes of patients with these conditions.  To that end, she is an active clinical researcher who specializes in clinical studies of diagnostics and maintains a database of samples and clinical information for outcomes research in marrow failure and leukemia. She is the principal investigator of a number of clinical protocols for patients with MDS as well as a unique clinical trial treating patients with severe aplastic anemia using a specialized bone marrow transplant regimen at Johns Hopkins.  Her work has resulted in multiple publications in the scientific literature and presentations at national meetings.  She is also involved with the Aplastic Anemia & MDS International Foundation and serves as one of the six principal investigators for the Edward P. Evans MDS Clinical Research Consortium.